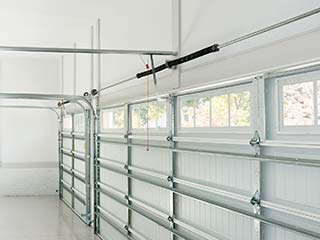 You may not have paid much attention to the actual operation of your garage door until the day it stopped working. Because the door is mechanical, it needs a few devices to help it move up and down. One of these is the opener, which gives a signal to your garage door that it should open or close. But, how does it physically move? This is where your garage door springs come in. Because they are so important, they need to be taken care of properly.
However, as with most things in life, nothing lasts forever. The same applies to your springs; they should be replaced every 10,000 cycles, or every seven to twelve years.
Luckily for you, we have trained technicians who are experts in replacing garage door torsion and extension springs.
So, I Need to Wait for 10,000 Cycles to Replace them?
When you need to replace your garage door springs depends on how often you use your garage door. The above time frames are just a rough estimate and you may need to replace them sooner. This could be due to wear and tear, or if you have had an accident with a car driving into your door and jolting some parts out of place.
It is a good idea to develop a habit of regularly checking your springs to see if they are loose, or if there are any major gaps in the coils. Another major sign is that your garage door does not open all the way when you try to open it.
Can I Replace my own Garage Door Springs?
We have already discussed how important these springs are. However, we need to emphasize the fact that they need to move a very heavy object up and down multiple times a day. Even if you are a skilled handyman or handywoman, you should never attempt to fix it yourself. When it comes to your springs, DIY is never the solution. We have many technicians who are ready to help you when you call!
Here at Garage Door Repair Coppell, we have worked hard to be one of the best garage door companies in the area. Our well-trained technicians are always available to answer any questions or queries you may have. Contact us now!

We also offer the following:

Bent Garage Door Track Repair

Oil Tempered Torsion Springs

Genie Garage Door Openers

Part Replacement & Repair