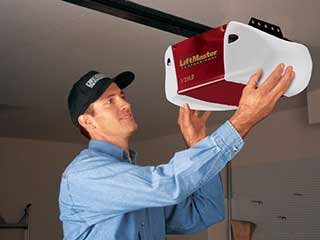 Garage door openers are responsible for automating your doors at home, providing them with power so that they can be operated with a simple touch of a button from your remote control.
Unfortunately, they are not impervious to damage, whether from accidents or from the gradual strain of old age. If your opener has been acting strangely of late, be sure to contact one of our technicians for assistance with repairing, maintaining, or installing it.
Get Your Opener Fixed
Door openers may be damaged for a number of reasons, many of which are unavoidable. For instance, they can gradually deteriorate over time due to friction caused by their moving parts. As the many components in your opener operate, they do so with considerable friction on the parts around them. Without proper maintenance, this friction will quickly wear down the inner parts of your opener, eventually rendering them inoperable.
Bad weather, especially dampness, is another common cause of garage door openers breaking down. This is because their metallic parts are prone to rusting in the presence of consistent dampness, which weakens their structure over time and eventually leads to failure.
If rust or old age have taken their toll on your motor, be sure to have one of our technicians look at it for you.
Professional Maintenance for All Openers
Keeping your openers in consistently good health requires attention to be paid to their various maintenance needs, such as lubrication and part replacements.
Our technicians offer various opener maintenance services designed to extend its lifespan while inspecting it to ensure that everything is working as it should. Annual, or more frequent maintenance on your opener will ensure that they never give you any unexpected problems, and will also delay the need for expensive repairs.
Garage Door Opener or Motor Installations
If you are looking to take advantage of the benefits that an electric garage door has to offer, why not consider having an opener fitted to your door at home? Our technicians can assist you in selecting the product that is right for you and will get to work installing it for you. Give our team at Garage Door Repair Coppell a call today for professional repair, installation, and maintenance services.
You can also count on us for:

Roll Up Garage Door Services

Extension Spring Adjustment

Opener Remote Clicker Replacement

Garage Door Troubleshooting Services