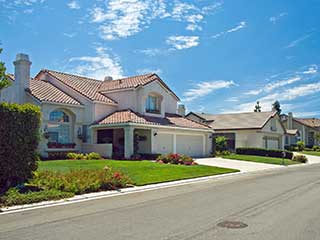 Two of the leading names in the garage door industry are Clopay and Amarr. Our Overhead Garage Door Repair Coppell works with these distinguished brands, showing you the best of their products. We install and repair their garage doors, so you can acquire first-rate garage doors for your home or business.
Clopay Doors
Clopay is a brand of the same name. Their residential garage doors offer both function and style. Choose ones that will enhance the beauty of your home and upgrade its curb appeal.
They have carriage house style doors, as well as doors made of steel, wood, and aluminum. They also have raised and flush panels, traditional, and contemporary styles.
You can also create the door that will transform your home by choosing your preferred design, hardware, color, stains, and finishes. Clopay is also known for its durability and energy efficiency.
Clopay doors offer a variety of residential garage door styles, including wood, steel, and aluminum carriage house designs. Insulated doors are available in a range of materials, providing comfort and energy savings. Insulation is provided by polyurethane, polystyrene, and insulated glass.
Our installers can help you select the right garage door for your home and location. When you choose Clopay doors, you get the Good Housekeeping Seal protection for two years. If you find it to be defective, you can have it repaired, replaced, or refunded.
Amarr Garage Doors
Amarr was founded six decades ago, and with that length of experience, it has already gained the expertise to build garage doors that enhance every property's curb appeal. Their doors are not just built for aesthetics, but for function as well. The features are designed for durability, safety, and security. It offers innovation in the garage door industry. Choose their products and benefit from numerous advantages, such as pinch protection technology.
Each door has a pinch protection feature that prevents serious hand injuries. You can also choose from varying levels of energy efficiency, and if you are concerned with noise, you can opt for noise reduction included in the insulation.
Products are made from recycled materials, so less harm is done to the environment during production. You can find Amarr products from thousands of different installers, but there is no need to look further, as we can help you find the perfect door that best suits your home and budget.
Our company sells, repairs, and installs Clopay and Amarr garage doors. Whenever you encounter problems with them, we are here to assist you, as well as introduce their products to you. We can determine if your door needs repair or replacement.
Since this is likely the largest moving object in your home, it requires proper installation, maintenance, and testing to ensure safe and trouble-free operation. We know that if it is not properly adjusted, it could cause serious injury.
We do recommend replacements to upgrade the look of your home, as well as if your safety is compromised by a malfunctioning garage door. Whichever service you choose, we have the best Clopay or Amarr product for your property.